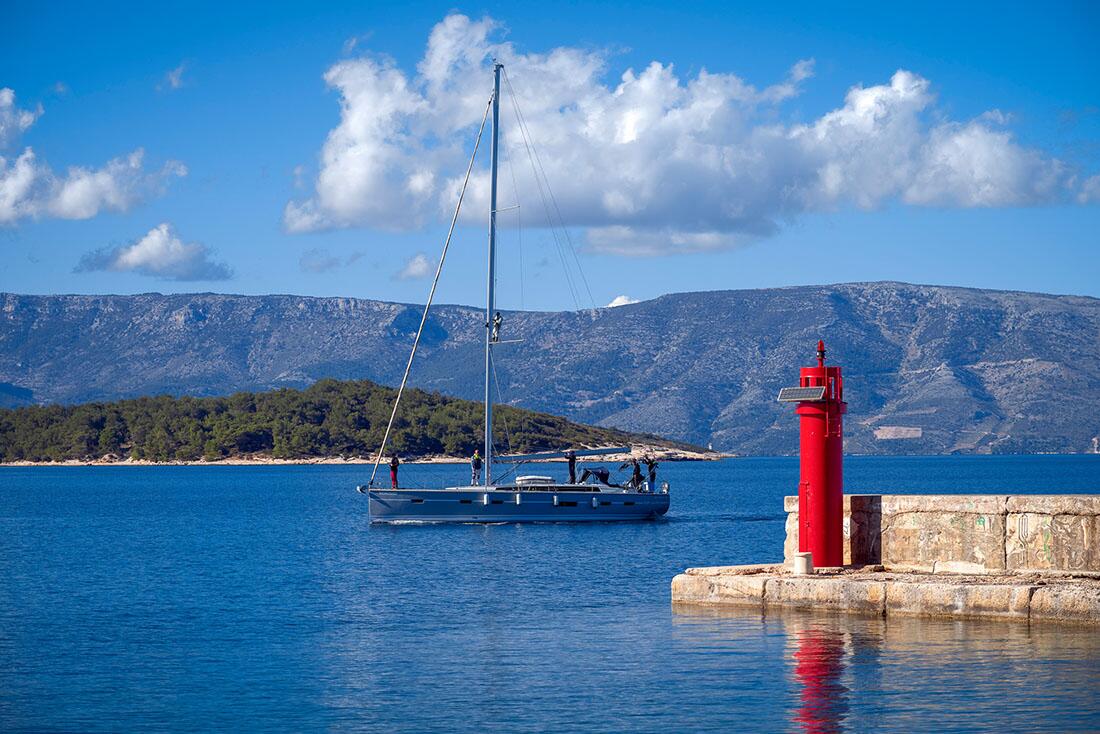 Private car or other vehicle. You can check out all the latest information about road travel, including roadworks, closures, weather conditions, border crossing queues, ferry sailings and much more on the Croatian Motoring Association (HAK) website. The site also provides up-to-date information about requirements for drivers and their vehicles according to the seasons, weather conditions and state of the roads.
Public transport: Hvar Island can be reached by sea, by ferry or catamaran. There are two main ferry ports on Hvar, at Stari Grad and Sućuraj. These are the only entry points for cars and other vehicles. There are two ports for public catamaran services on Hvar, in Hvar Town and Jelsa.
Local ferries
Ferry line, Jadrolinija: The ferries run throughout the year, although very rarely the services may be cancelled if the weather conditions are too hazardous for sailing.
Ferry Ports
You can buy ferry tickets at the Jadrolinija agencies in the ports at Stari Grad, Split, Sućuraj and Drvenik, or online via the Jadrolinija website. If you are travelling by car in July and August, we recommend that you arrive at your port of departure at least 1 1/2 hours before departure time. When you buy a car ticket for the ferry between Stari Grad and Split, you have to say the time of the ferry you will be travelling on. If you miss your ferry, you should change your ticket at the ticket office to secure a place on the next available ferry. You can view the vehicle queues at any of the ports in real time on the Croatian Motoring Association (HAK) website: https://m.hak.hr/kamera.asp?g=5
If you come to the island without a car, you do not have to specify your ferry time, your ticket applies to any of the ferries between Split and Hvar Island on that day. On arrival you can travel to your destination by bus or taxi, or you can arrange to rent a car on the island.
International ferries
Jadrolinija normally runs a service between Split, Hvar (Stari Grad) and Ancona. To check on the current timetable, please check the Jadrolinija website 'Sailing schedule'.
Catamarans
From Hvar Town you can travel to Split, Korčula, Mljet, Lastovo and Dubrovnik by catamaran, and vice versa. The Jadrolinija service between Jelsa and Split normally stops at Bol on Brač. The catamaran services may be suspended if weather conditions make sailing unsafe.
Operators:

Jadrolinija: To check the current timetable, please visit the Jadrolinija website and check the 'Sailing schedule'.
Krilo: To check the current timetable, details of prices and ticket purchase, please refer to the Krilo website. The sailing schedule can be accessed through this link: https://www.krilo.hr/en/sailing-schedule/
TP-LIne: To check the current timetable, details of prices and ticket purchase, please refer to TP-line website. The sailing schedule can be accessed through this link: https://www.tp-line.hr/en/timetable
Independent arrivals
Private boat. If you come to Hvar on your own boat, you can moor in a choice of marinas, nautical ports or anchorages. Make sure you have all the necessary documentation and permits for your boat, crew and any passengers. Always moor in a designated place, according to local regulations.
Harbours: Jelsa, Stari Grad, Hvar, Sućuraj (note: these links are in Croatian only)
Marinas: ACI Marina Vrboska, ACI Marina Palmižana.
Anchorage: the Islet of Šćedro
PORT AUTHORITY JELSA
Address: Riva, 21465 Jelsa
Mob. +385 (0)91 405 6698
Location: Kapetanija Jelsa
ACI MARINA VRBOSKA
Address: Vrboska 21463 Vrboska
Mob: +385 (0)21 774 018
Web: AciMarinaVrboska
Location: ACIVrboska
ANCHORAGE ON THE ISLET OF ŠĆEDRO
Address: Otok Šćedro
Mob: +385 (0)95 905 5480
Email: prijateljiscedra@gmail.com
Location: SidrišteŠćedro
Private plane. It is also possible arrive in a small private plane, landing on Hvar's small airstrip on the Starigrad Plain, about halfway between Stari Grad and Jelsa. Whether you have your own plane or use a charter service, you must of course have the necessary documents and permits for the plane, pilot and any passengers, in accordance with international and Croatian laws.
Bus company on Hvar Island:
Čazmatrans is the company running the bus service on Hvar. The company has an online option for buying tickets, but this is for long-distance travel, and is not available for local transfers on the island. The local office is at the address: Ul. Ivana Meštrovića 4, 21460, Stari Grad; telephone: +385 (0) 21 765 904; e-mail: cazmatrans.otok.hvar@st.t-com.hr
BUS TIMETABLE
For advice on travelling around once on the island, please see our article Getting Around.