Galerija slika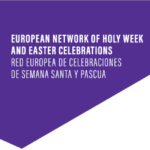 Jelsa in 'Holy Week Europe'
𝗝𝗘𝗟𝗦𝗔 – 𝗣ROUD TO JOIN '𝗛𝗢𝗟𝗬 𝗪𝗘𝗘𝗞 𝗘𝗨𝗥𝗢𝗣𝗘'
Bolstering the intangible tradition of the People's 'Za Križen' ('Following the Cross') Procession, Jelsa has been accepted as a member of this special international network of towns formed to promote the development of authentic ways of celebrating Holy Week and Easter.
The organisation 'Holy Week Europe' is in turn a member of the umbrella association 'Cultural Routes of the Council of Europe' with the aim of coordinating multidisciplinary expert research from different European regions.
The main aim of establishing these European routes is to synergize the preservation and promotion of the traditions surrounding the Christian Holy Week and Easter in each of the member communities. To this end, two Croatian girls went to Spain in June 2023 on an Erasmus programme.