Galerija slika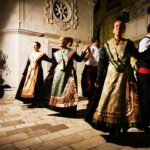 The 11th CROATIAN ISLAND FOLKLORE EXHIBITION in Jelsa will be held on September 17, 2022. on the Square of St. John starting at 8:00 p.m. The organizer of the fair is the Cultural and Artistic Society of Jelsa.
The eleventh folklore fair held in our town, the heritage of which is preserved by the KUD Jelsa Folklore Society. Nurturing friendly bonds that have been created through many years of activity with the performance of KUD Jelsa, KUD "Šolta" from the island of Šolta and FA "Mladost" from Samobor are coming as our guests.
Event details
17.09.2022. – 17.09.2022.