Galerija slika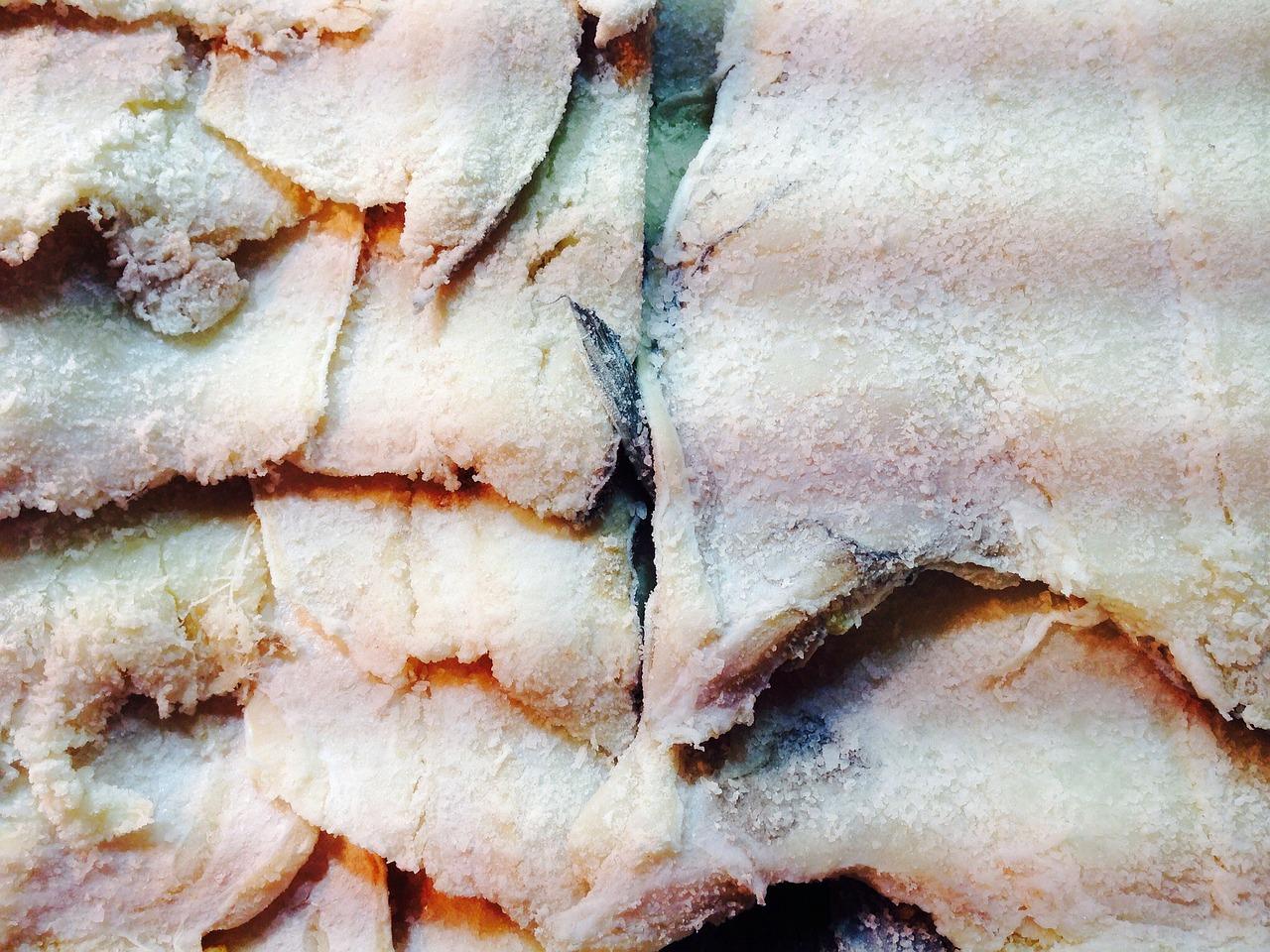 Hvar's fish-eating traditions
Fish Academy: Recipes and Customs
GRILLED FISH
Grilling fish is the traditional way of preparing fish on the Croatian coast, and is a special gastronomic treat. It allows you to savour the natural taste of the fish straight from the sea. If the fish is not fresh, the meal will not taste good. There are conflicting views about whether the fish should be salted before or after cooking, or whether it is best to dowse it with olive oil before or after grilling, but the truth is that, as for all foods used in Dalmatian cooking, the less complicated the method of cooking, the better the taste.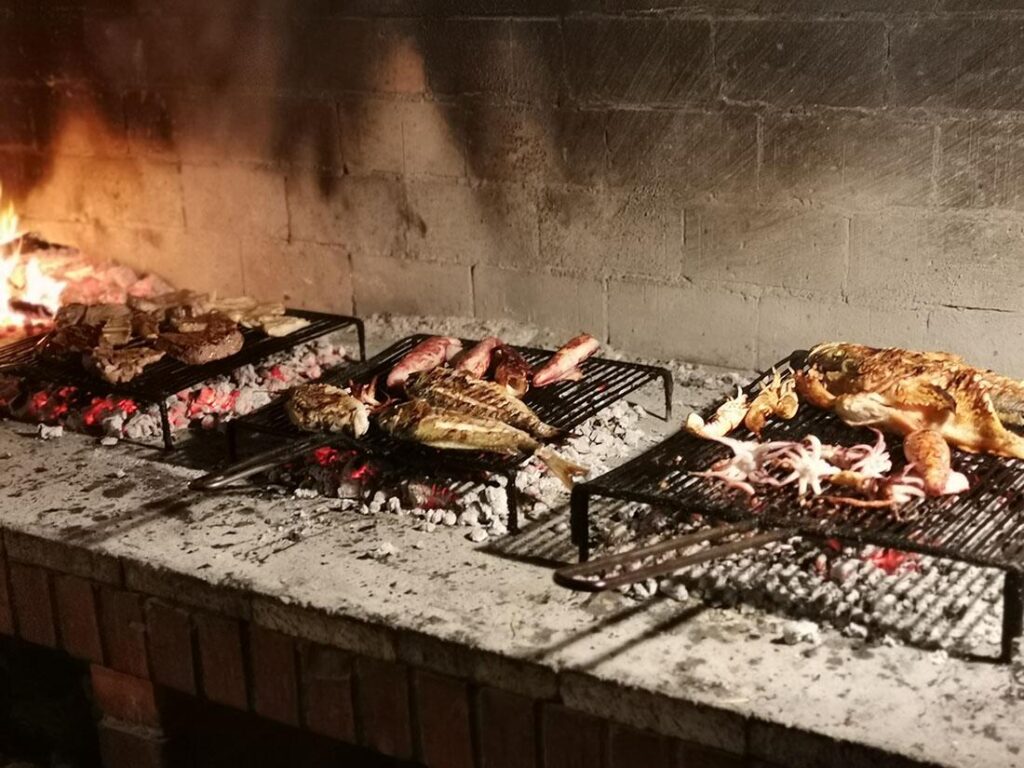 The grill grate is heated over wood charcoal embers before the fresh fish is placed on it, and is usually basted with olive oil during cooking.
The custom is to drink local wine with the fish, in accordance with an old Dalmatian saying: "fish swim three times: the first in the sea, the second in olive oil, and the third in wine." Highly recommended as the white wines to drink with a fish meal are those made from the local grape varieties 'bogdanuša' and 'pošip'.
---
SARDINES
Sardines – food for marine creatures and humans
It is well known that a small blue fish, most notably the sardine, was responsible for feeding generations of Dalmatians. Sardine fishing was especially abundant around the Islands of Hvar and Vis. Sardine catches were being bought up by Venetian traders as long ago as at the end of the 13th century, when fishing played a major part in the economy of the two islands. At the beginning of the 16th century, a third of the islands' total income was being raised from the export of sardines throughout Italy and much of the Levant.
Sardines on the plate
Fresh or salted, grilled or served with flat-baked (focaccia) bread, marinated or in a 'savur' sauce, fried or prepared in a host of other ways, simply salted or coated with olive oil, sprinkled with fragrant rosemary or oregano, sardines are nutritious, healthy and cheap.
---
FISH STEW (known locally as BRUDET or BRUJET)
The traditional Dalmatian fish stew called 'brudet' is a must for all gourmets visiting this part of Croatia. It is said that there are as many recipes for preparing it as there are Dalmatians. On the one hand it is, in principle, easy to prepare, but on the other hand it is so complicated that it is difficult to achieve the right combination of ingredients, or to know the right way to cook it, and how long it should be cooked, which makes it the subject of a great deal of discussion in Dalmatia. Grouper is the best fish for a brudet, but in fact any fish can be used provided it is fresh.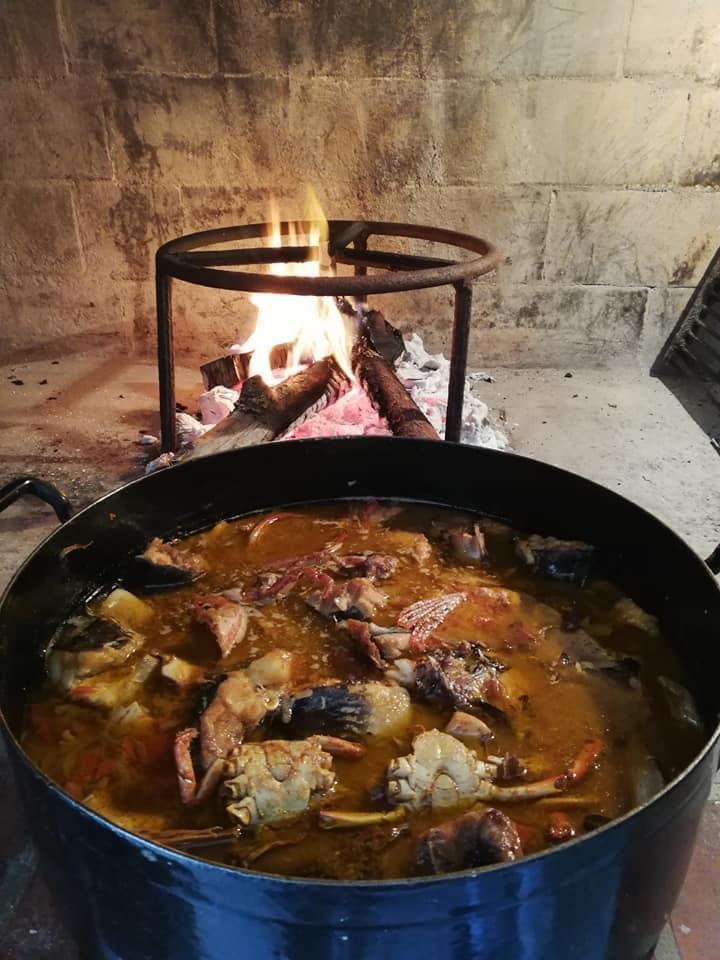 This is the golden rule for any fish dish: fresh is best! The ingredients for preparing the brudet are garlic, onion, olive oil, fish, local vinegar (ocat in Croatian) or wine vinegar (kvasina), tomato, salt and pepper. The stew is usually served with polenta.
---
GREGADA OR BOILED FISH
Gregada is a time-honoured fish dish, simple to prepare and extremely tasty. As for the majority of traditional Dalmatian dishes, very little seasoning is used, so that the taste of each foodstuff is given a special emphasis, without any artificial additives. The most popular fish for the gregada are grouper,
anglerfish and flounder and the gregada will be all the better for the addition of some mussels or prawns. The ingredients for a gregada are: garlic, onion, fish, olive oil, pepper, salt and parsley. Its thick liquid gives the gregada a delicious richness, and at the end of cooking we recommend seasoning it with a glass of white wine.
---
OCTOPUS, SQUID AND CUTTLEFISH
Local Adriatic cephalopods are a speciality which gourmets delight in. They can be prepared in various ways, and one of the best known dishes is black risotto, made with cuttlefish. There are innumerable recipes for black risotto, which are passed down through generations, but in general the main ingredients are: onion, garlic, white wine, cuttlefish, black cuttlefish ink, a fish base, rice, olive oil, parsley, salt and pepper. Cuttlefish stew is also a special delicacy. Octopus is frequently used in Mediterranean cooking, either as a salad or cooked under the bell (locally termed 'pod pekom').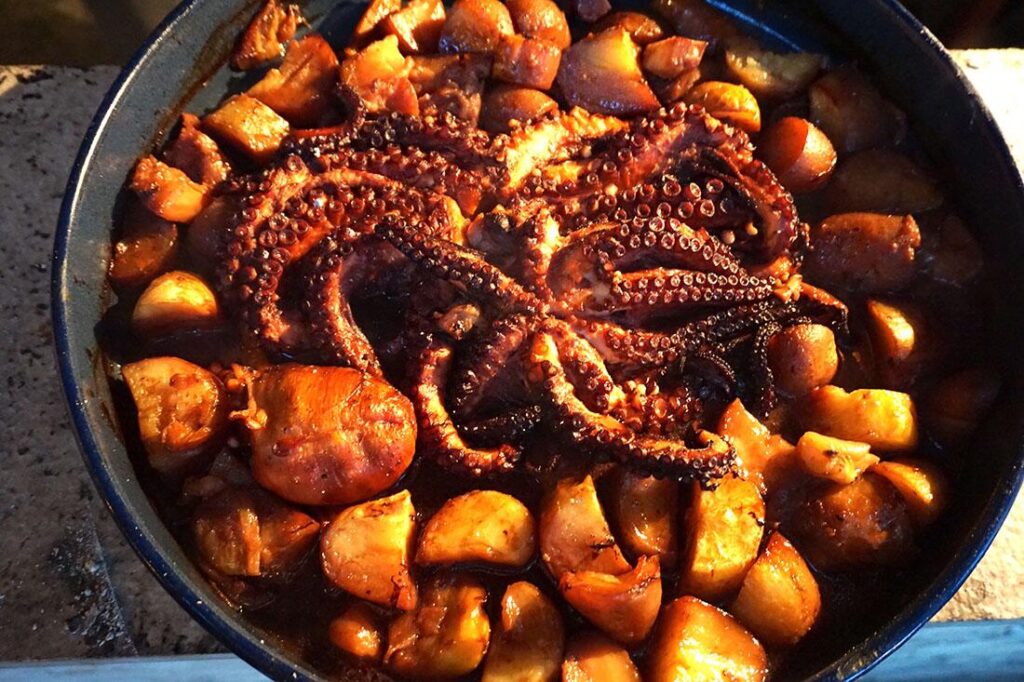 ---
ADRIATIC SHELLFISH
Pure hedonism with the stamp and taste of the sea, this simple foodstuff allows for imaginative variety in its preparation. Shellfish can be eaten raw, or cooked with other foods to impart a fine elegant flavour to the dish. In Dalmatia, the favourite way with shellfish is cooked as a special type of stew, a dish termed locally 'na buzaru'. The most used shellfish are mussels, warty venus, clams, oysters, Noah's Ark shells, and scallops. As with the 'gregada' and the 'brudet', the numerous ways of cooking shellfish are the subject of animated discussion. Some cook them 'red', adding tomato to the dish, others 'white', without the tomato. Shellfish are a classic Dalmatian speciality, at once irresistible and glamorous, a true treat for the senses.
---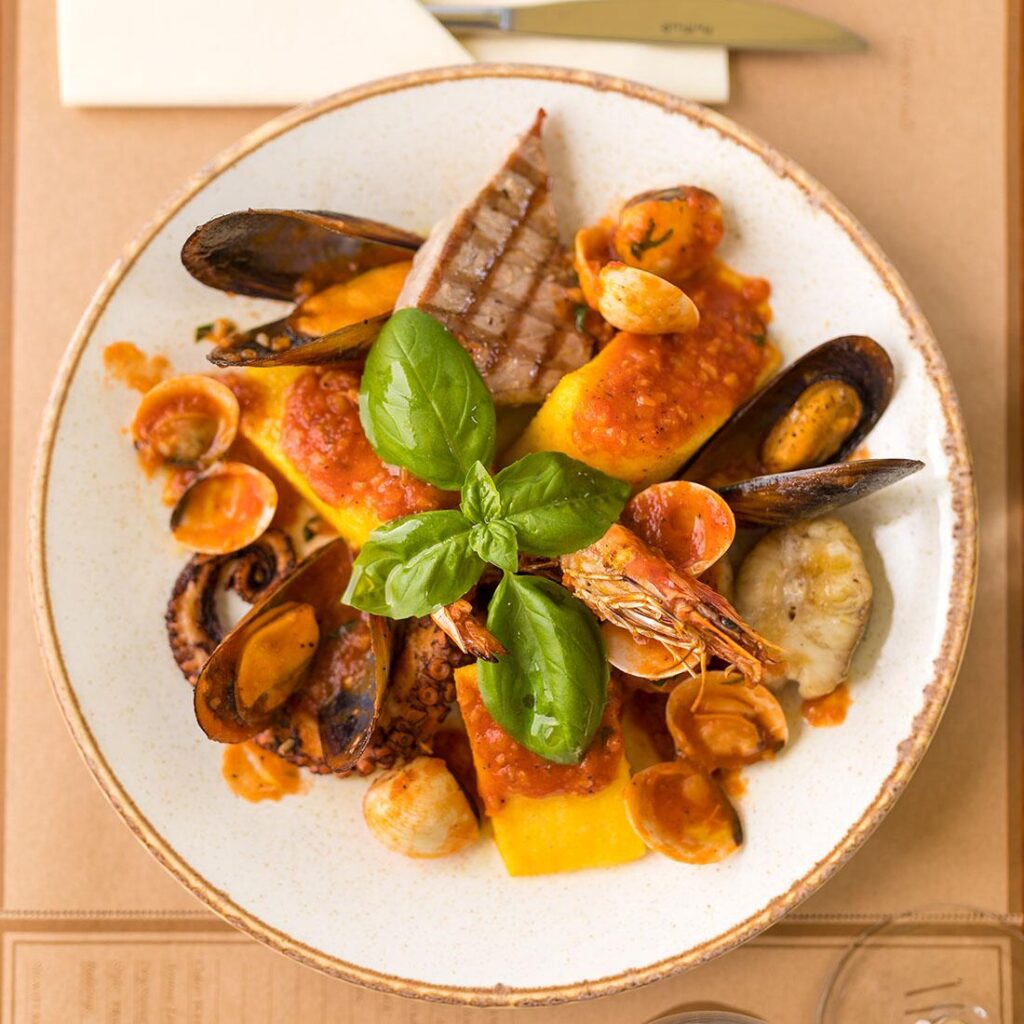 CRUSTACEANS – Dublin Bay prawns, langoustines or Norwegian lobster (nephrops norvegicus), shrimps, European spiny lobster (palinurus elephas), European lobster (homarus gammarus).
The European spiny lobster is Dalmatia's great gastronomic icon, the king of the sea, a peerless speciality. Many are of the opinion that the European lobster is tastier, but that's for the individual to decide. Crustaceans are one of Dalmatia's ultimate signature delicacies, and are scrumptious whichever way they are prepared. In Dalmatia there must be a few million local recipes for cooking them: stewed as 'buzara' or 'brudet', cooked as mixed seafood for pasta or risotto dishes… It's mouthwatering just to think of these culinary delights. Almost every restaurant serves its own version of these recipes, and we guarantee that the taste will remain engraved as a delight in your memory.
---
BAKALAR – DRIED SALT COD
Although Atlantic cod (gadus morhua) has never swum as a fish in our waters, dried and salted as 'bakalar' it has been so widely adopted in this country that it is considered local. Bakalar has become part of our traditions, and days of abstinence during Lent and especially on Christmas Eve would be unthinkable without it, when every house is permeated with its distinctive smell as this dried fish from northern climes is boiled or stewed – although some people find the smell unpleasantly overpowering! But for most people bakalar is a favourite treat on days of abstinence, lavishly bathed in olive oil, as the dish is said to be a failure if the fish has not absorbed its weight in oil.
Experts agree that dried fish from the Adriatic has a milder, more refined taste than the intense flavour of bakalar. The greatest delicacies are considered to be the wild fish known as 'landovina', conger and octopus, while European hake, dentex and gilthead seabream are also very often enjoyed dried. Blue fish may also be dried, mostly tuna, followed by forkbeard…